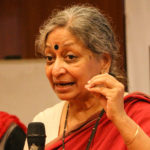 Geeta Dharmrajan loves writing stories for children. Geeta was earlier one of the editors of Target, a magazine for children, and The Pennsylvania Gazette, the magazine of University of Pennysylvania. She has also been awarded the Prestigious Padma Shri in 2012, for her distinguished service in the field of Literature and Education.
Shweta Mohapatra is a graduate of the National
Institute of Design, NID, Ahmedabad, and the Pont Aven
School of Contemporary Arts, France. Currently visiting faculty at
NID, she's worked for the Children's Film Society
of India and Sesame Street India.