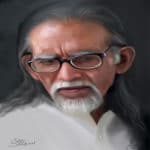 OV Vijayan was an important writer in Modern Malayalam
literary scene of the 20th century.
He published 9 short story collections and 6 novels,along with
journalistic ieces. He was a political commentator and
journalist and also a cartoonist. His first short story
collection was published in 1979. He received the Kerala
Sahitya Akademi Award in 1990, and many more awards for
his immense contribution to art and literature.